Quality and safe assembly
The Quality and Safe Assembly Mark was established in 2005 at the request of, and in cooperation with, the Czech Union of Electrical Engineers. It shows that the holder of the mark provides services that are of a good standard and that comply with EU requirements and that this fact has been verified by an independent third party.
The award of the mark confirms that the holder provides a service in the field of electrical assembly that is:
Performed by competent personnel
Safe and verified by tests in accordance with valid regulations
Implemented with the use of high-quality and reliable components
Done using environment-friendly procedures and methods that are safe for the processing entity
Requirements for holders of this mark are based on principles that are recognized in Europe for these types of services.
The mark is based on the traditional and publicly known ESČ mark, which in its original form expresses ongoing conformity of product properties with electrical safety standards and is one of the oldest marks of this kind in Europe.
The basic elliptical ESČ mark is positioned in a circle with the inserted text "Ecology – Safety – Quality", which specifies the focus of the mark. The field of service for which the mark is awarded is specified by text under the basic ESČ mark.
The mark is one of the marks accepted within the "CZECH QUALITY PROGRAM".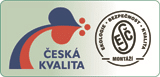 An application for registration of the mark has been submitted to the Industrial Property Office in Prague.
Benefits of certifications
Related standards
Certification procedure
Application
Accreditation
Benefits of certifications
For the service provider:
Minimization of risks resulting from poor functionality, low safety and reliability of the product
Enhances the image of a small company that wants to be successful on the market
Improves the entire service and its marketability based on knowledge of regulations and technologies
Maintaining non-conflicting relationships with supervisory authorities
Ensuring good relationships with partners at the erection workplace
Continuous improvement of business relationships
Continuous improvement of results
For service users:
Guarantee of high-quality and professional services
Guarantee of standard procedures and results of service provision
Guarantee of compliance with environmental requirements
Guarantee of compliance with all safety requirements
Guarantee of qualified solutions of nonconformities and complaints
Related standards
Certification procedure
Application
Accreditation